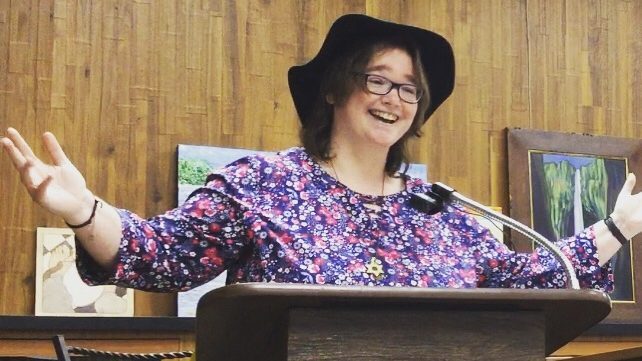 Biography of Vallejo Poet Laureate, D.L. Lang
"Poems that embrace spoken-word rhythms and hippie principles, inspired by the author's love of music and nature, her peace activism, and her gratitude for Jewish community."
D.L. Lang has been writing poetry for over 25 years, since she first got a taste of it in elementary school while growing up in Enid, Oklahoma, a town which happens to be named after a character in a poem, "Enid and Geraint" in Idylls of the King.
Her deepest artistic influences are not poets, but musicians. She finds herself learning new vocabulary and analyzing rhyming patterns and themes in song lyrics most often. Due to its often idealistic vision of a better, more peaceful world, Lang enjoys the music of the 1960s the most. D.L. Lang remembers her earliest poetic efforts as attempts at songwriting and a way to process the world which ultimately evolved into expressions of political protest, spiritual connection, appreciation for nature, elegy, and memoir. Her earliest rhymes were written while attending school and university in Oklahoma. Her first four books feature a mixture of these early adolescent poems from the mid-1990s alongside more contemporary efforts.
She is the author of Tea & Sprockets, Abundant Sparks & Personal Archeology, Look Ma! No Hands!, Poet Loiterer, Id Biscuits, Barefoot in the Sanctuary, Armor Against The Dawn, Dragonfly Tomorrows & Dog-eared Yesterdays, Resting on My Laurels, The Cafe of Dreams, Midnight Strike, and This Festival of Dreams. She has also released a chapbook compilation entitled Wanderings and her debut spoken word album entitled Happy Accidents, and is the editor of Voices, Verses & Visions of Vallejo. She has also released themed compilations of her work: a nature poetry compilation entitled Earthen Rovings, a political poetry compilation entitled A Topical Solution, and a Jewish poetry compilation entitled Paradise Collectors.
An internationally published poet, D.L. Lang's poetry has been anthologized in numerous titles worldwide: A Poet's Siddur (Ain't Got No Press, 2017), Light & Shadow (Benicia Literary Arts, 2018), Marin Poetry Center Anthology, Vol. 21 (2018), Verses, Voices & Visions of Vallejo (2019), Colossus: Home (Colossus Press, 2020), The Alien Buddha Wears a Black Bandanna (Alien Buddha Press, 2020), Introspective (BloodRedStar Press, 2020), Happy Fukkadays 2 U from the Alien Buddha (Alien Buddha Press, 2020), Musings During a Time of Pandemic (Kistrech Theatre International, 2020), Poetry: The Best of 2020 (Inner Child Press, 2020), From the Soil: A Hometown Anthology (Exeter Publishing, 2020), Poems of Political Protest (City Limits Publishing, 2020), Black Lives Matter: Poems for a New World (Civic Leicester, 2020), Red Skies (Splintered Disorder Press, 2021), 2020: Our Voices (Barnes & Noble Press, 2021), Birth Lifespan Volume 1 (Pure Slush Books, 2021), The Alien Buddha Skips the Party (Alien Buddha Press, 2021), The Alien Buddha Gets a Real Job (Alien Buddha Press, 2021), The Last Time the Alien Buddha Got Sooo High (Alien Buddha Press, 2021), Pandemic Evolution (Sheila-Na-Gig Editions, 2021), Insurrection (Gnashing Teeth Publishing, 2021), Good Cop / Bad Cop (Flowersong Press, 2021), Anthology House Vol. 2: Creative Visions of Global Wellness (ASEI Arts, 2021), Poems from the Heron Clan, Vol VIII (Katherine James Books, 2021), The Rastaman: Conversations with Bob Marley (Alien Buddha Press, 2021), Together Behind Four Walls (Goldcrest Books, 2021), When this is All Over… (Creative Ink Publishing, 2021), The Alien Buddha Goes Pop! (Alien Buddha Press, 2021), and Globalisation: The Sphere Keeps Spinning (Making Magic Happen Press, 2021).
Her poetry has also been published in the Benicia Herald, Poets Are Heroes Magazine, ReformJudaism.org, Poetry Expressed, Frost Meadow Review, and the Jewish Journal of Los Angeles.
Her work has been accepted into these forthcoming anthologies: Resist with Every Inch and Every Breath (Lonely Cryptid Media), When There are Nine (SCE Press, 2021), I Can't Breathe: A Poetic Anthology of Social Justice (Kistrech Theatre International, 2021), Yearning to Breathe Free: A Community's Journal of Crises, 2020 (Benicia Literary Arts, 2021), Nooks & Crannies (Benicia Literary Arts, 2021), and Reimagine America: an anthology for the future (Vagabond Books, 2022).
Several of her pieces have been honored with awards at the Solano County Fair, Alameda County Fair, San Mateo County Fair, and the Marin County Fair. In 2020 she also won 3rd place in City Limits Publishing's Poems of Political Protest contest. For her service as poet laureate she was honored with proclamations by the Vallejo City Council, California Arts Council, and California State Senate.
Lang has given over 300 public readings since 2014, after she became inspired to perform on a regular basis due to an open mic at her synagogue. She has been a regular spoken word performer at Poetry by the Bay since April 2015. She performed at Poetry Day at the 2017 & 2019 Alameda County Fair in Pleasanton, the 2018 & 2019 San Mateo County Fair in San Mateo, the 2019 Alameda Summer Arts Fair in Alameda, the 2019 Solano County Fair in Vallejo, and the 2020 & 2021 Solano County Virtual Fair. In 2016 she was a featured spoken word performer at the Vallejo Man March peace rally. She has also guest hosted Poetry by the Bay, served as a judge for the Solano County Poetry Out Loud Competition in 2017, 2018, and 2019, as well as for the Write On! Solano County Library Teen Writing Competition in 2018, 2019, and 2020. She also judged the Joel Fallon Poetry Scholarship, the Vallejo Poetry Slam, and Solano County Fair Talent Competition in 2019. She taught self-publishing to the JFK Library's Poetry in Notion and the Benicia First Tuesday Poets.
D.L. Lang served as the Poet Laureate of Vallejo, California (2017-2019).
As Vallejo's Poet Laureate she performed for several Vallejo events and organizations, including Solidarity with Charlottesville, Queer Words Vallejo, Families Belong Together, Vallejo Women's Summit, Vallejo March for Peace & Justice, Participatory Budgeting, International Peace Day, Flyaway Festival, Vallejo United Against Hatred & Anti-Semitism, Unity Day, Vallejo SOUP, the McCune Symposium, Voices of the Season, the Vallejo Peace Project's Speak Up For Peace, Jews of Vallejo and their Fabulous Friends' Hanukkah & Hilarity, and Resilent by Design.
She has been a featured act at poetry shows around the San Francisco bay area, including My Word Open Mic and Poetry Express in Berkeley, Bay Area Generations in Oakland, Rosanna's in Benicia, Gears Turning in San Francisco, Fish Bowl Poetry in Monterey, Live Poets Society in Orinda, and as a mystery poet at the Benicia First Tuesday Poets. Lang has also featured as a part of the Marin Poetry Center's Travelling Show in Fairfax, San Rafael, and Novato. She has performed at fundraisers for the Solano County Library Foundation in Fairfield and the Joel Fallon Poetry Scholarship in Benicia. She also organized, hosted, and performed at the 2018 and 2019 National Poetry Month event at the JFK Library and Poetry in Notion at the McCune in the summer of 2018.
She read a set of Jewish themed poetry and had a Q&A session with Congregation Beth Sholom in Napa, and read to students at Grattan School in San Francisco. She spoke on a panel at the 2019 San Mateo County Fair. Lang presented on two notable Jewish female poets and performed for the American Association of University Women in 2018's Voices of Change event, and also had the honor of giving a call and response invocation at the 2019 Women Building Vallejo Summit.
Lang attended and performed at the Gathering of California's Poets Laureate in Tujunga and the Bay Area Poets Laureate Gathering in San Mateo. She joined the Poets Laureate on Social Justice Tour in the fall of 2019, featuring at Revolution Books in Berkeley, Benicia Public Library, Pegasus Books in Berkeley, Bird & Beckett Books in San Francisco, Vallejo's JFK Library, Napa Bookmine, and Book Passage in Corte Madera.
Lang was also interviewed and performed poetry for KPFA's Poet to Poet, by DJ LaLa for OZCAT radio's Art Beat, for KPFA's BAJABA Jazzline's Poetry Month special, and for the Duck Soop Podcast. She has written and performed ekphrastic poems for events at Coal Shed Art Studios, Arts Benicia, Gallery 621, and Benicia Plein Air Gallery. She hosted the Poetry in Notion poetry circle at Vallejo's JFK Library from August 2017 through September 2019.
Following her service as poet laureate, she continues to perform her work, virtually featuring for Point Arena Third Thursday Poetry and Poetry Flash. Some notable recent events include reading at the Solano County Virtual Fair, Oy to the World!, Jewish and Proud! Solano County Standing Together, Yom HaShoah with the Jewish Democrats of Solano County, Congregation B'nai Israel's Rainbow Shabbat, and Congregation Rodef Sholom's Beit Cafe. She also reunited with her Vallejo Poet Laureate colleagues to perform at Alibi Bookshop.
D.L. Lang holds a B.A. in Film & Video Studies with a minor in Judaic Studies from the University of Oklahoma and an A.S. in General Studies from Northern Oklahoma College. She was born in Germany to a German mother and an American soldier of European and Choctaw heritage. Her early years were spent in Herleshausen Germany, Santa Fe Texas, Alexandria Louisiana, and Enid Oklahoma. She left Oklahoma for California in 2005 living in San Rafael after graduating college, and has resided in Vallejo, California with her husband since 2014.
Although poetry is her passion, she has a creative background that spans several different mediums. She spent several years designing the website and producing music videos for Grey, a rock musician in Enid, Oklahoma. Lang designed the album covers for many of Grey's albums, including Faded Colours, Colours, Rock & Pop, Words & Music, Anamnesis, Ice World, Inquire Within, Live at PEGASYS, and Acoustic Grey. In addition, she designed the album cover for We're Almost Gone, the debut album by the group Bermuda County, whose musicians often play on Grey's albums.
Although she has since moved on from providing these services, Grey produced her spoken word album Happy Accidents and the song "Last Chance Disaster" at his Grey Havens Studios. Grey also transformed four of her poems into the song, "Oh, My Chameleon Perceptions" which appears on his latest release Booze & Psychedelics. Grey is currently working on a new album featuring songs that incorporate Lang's poetry as lyrics. Musician Fred Ross-Perry was also inspired by some of her lines to create the song "Peace Will Come."
D.L. Lang majored in film in college, working at the television stations KXOK and TV4OU, and volunteering at PEGASYS, where she was awarded Best Editor in 2002, and Producer of the Year in both 2003 and 2004. She edited Charles Maupin's Liquid Wind (2004), a documentary about windsurfing and kiteboarding on Lake Hefner in Oklahoma. It won Best Film Trailer at Bare Bones Film Festival in 2004 and still shows regularly in Oklahoma on PBS. She directed, scored, edited, filmed, and appeared in the Hebrew language film, The Hebrew Project (2005) which is a documentary about the Hebrew program run by Dr. Ori Kritz at the University of Oklahoma. This film was optioned by The Jewish Channel and aired in 2009. If you would like to read more about that, visit the filmmaker history section.