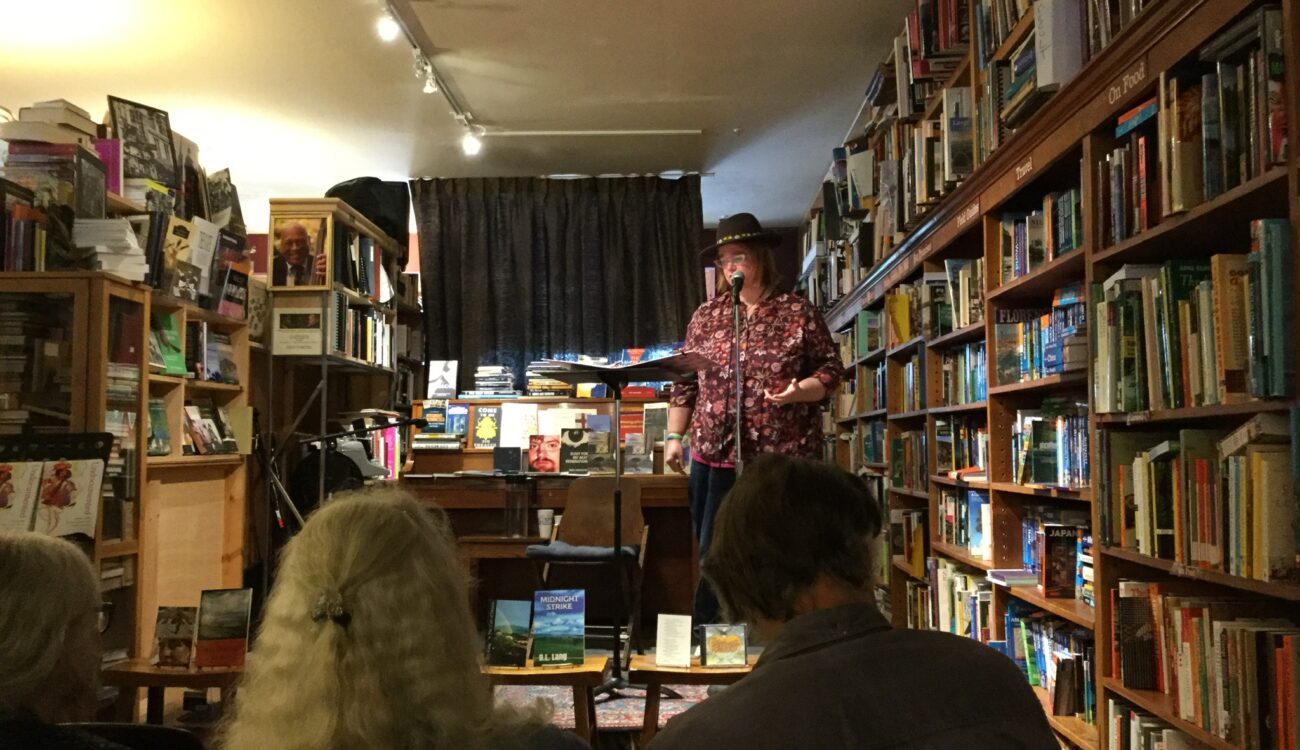 D.L. Lang is a contemporary American poet and spoken word artist. The author of over a dozen poetry books, Lang has been writing poetry for over 25 years. She has performed her poetry on stage hundreds of times at protest rallies, county fairs, literary festivals, open mics, poetry circles, bookstores, libraries, and live radio broadcasts.
From 2017 to 2019 she served as Vallejo, California's Poet Laureate. Her poems have been awarded with numerous county fair ribbons, transformed into songs, used as liturgy for prayer, and to advocate for peace, justice, and a better world.
The scribe of over 1,200 poems from haiku to free verse to masterful rhyme, covering a wide variety of topics, D.L. Lang has poetry that's sure to delight. Lang dabbles in both gritty realism and surrealistic wordplay, sorrowful elegy and uplifting affirmations. Her poetry is a mixture of topical political commentary, religious devotional meditations, and poetic autobiographical memoir. Her words take you on journeys deep into nature, memory, spirituality, and the whisperings of the heart.
She is the author of Tea & Sprockets, Abundant Sparks & Personal Archeology, Look Ma! No Hands!, Poet Loiterer, Id Biscuits, Barefoot in the Sanctuary, Armor Against The Dawn, Dragonfly Tomorrows & Dog-eared Yesterdays, Resting on My Laurels, The Cafe of Dreams, Midnight Strike, and This Festival of Dreams.
She has also released a chapbook compilation entitled Wanderings, a nature poetry compilation entitled Earthen Rovings, a political poetry compilation entitled A Topical Solution, a Jewish poetry compilation entitled Paradise Collectors, and her debut spoken word album entitled Happy Accidents. She was the editor of Voices, Verses & Visions of Vallejo, featuring 43 fellow writers.
An internationally published poet, D.L. Lang's poetry has been anthologized in numerous titles worldwide, including A Poet's Siddur (Ain't Got No Press, 2017), Light & Shadow (Benicia Literary Arts, 2018), Marin Poetry Center Anthology, Vol. 21(2018), Verses, Voices & Visions of Vallejo (2019), Colossus: Home (Colossus Press, 2020), The Alien Buddha Wears a Black Bandanna (Alien Buddha Press, 2020), Introspective (BloodRedStar Press, 2020), Happy Fukkadays 2 U from the Alien Buddha (Alien Buddha Press, 2020), Musings During a Time of Pandemic (Kistrech Theatre International, 2020), Poetry: The Best of 2020 (Inner Child Press, 2020), From the Soil: A Hometown Anthology (Exeter Publishing, 2020), Poems of Political Protest (City Limits Publishing, 2020), Black Lives Matter: Poems for a New World (Civic Leicester, 2020), Red Skies (Splintered Disorder Press, 2021), 2020: Our Voices (Barnes & Noble Press, 2021), Birth Lifespan Volume 1 (Pure Slush Books, 2021), The Alien Buddha Skips the Party (Alien Buddha Press, 2021), Pandemic Evolution (Sheila-Na-Gig Editions, 2021), Insurrection (Gnashing Teeth Publishing, 2021), When There are Nine (SCE Press, 2021), and Globalisation: The Sphere Keeps Spinning (Making Magic Happen Press, 2021). Her poetry has also been published in the Benicia Herald, Poets Are Heroes Magazine, ReformJudaism.org, Poetry Expressed, Frost Meadow Review, and the Jewish Journal of Los Angeles.
More information about D.L. Lang
Select press and interviews:
Kirkus Reviews: Midnight Strike (2019) Poet Loiterer (2016)